Focussing on a combination of:-
*Mantra
*Meditation
*Gentle Hatha Yoga Asana (posture)
*Pranayama (activating and expanding life force energies using the breath)
To feel more relaxed, calm, grounded in yourself, connected within and with spirit.
TO BE CONFIRMED (Recently relocated back to India)… ONLINE SESSIONS ARE AVAILABLE
£ per person, All souls welcome
Just bring your own mat, blanket & water bottle, & please arrive on time!
Note: yoga should be practiced with an empty stomach.                  
Limited spaces available, so please book in advance!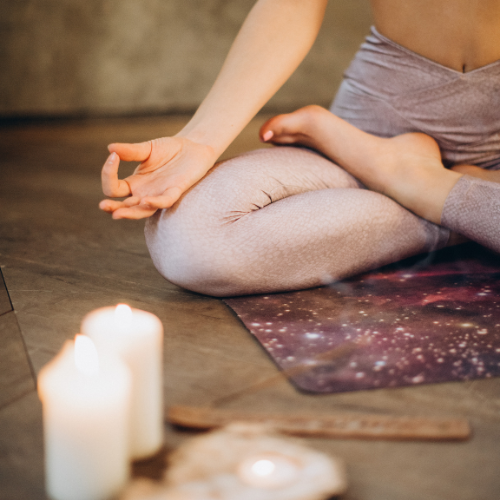 Womens' Weekly Meditation Circle
Energies are amplified when we come together in circle and meditate.
Join me for a FREE weekly guided meditation and take time out for yourself.
Allowing for healing, intuitive insights, connection with divine energies, calm, quiet, relax, restore and renew.
Held over zoom, in a "virtual circle", our energies are connected across the globe.  So you can experience in the comfort of your own home.  I guide you through a meditation on a different theme each week, sometimes incorporating some sacred chanting and pranayama.  Using visualisation techniques and sometimes Yoga Nidra (deeper meditation, with awareness also known as "yogic or psychic sleep").  It can be a deeply relaxing and nourishing experience on all levels.  All you need is a comfortable space for meditation where you will not be interrupted and a good, stable internet connection. 
4pm, UK time (sessions are around half an hour to an hour in duration) – Please contact me in advance for the zoom link and joining instructions.